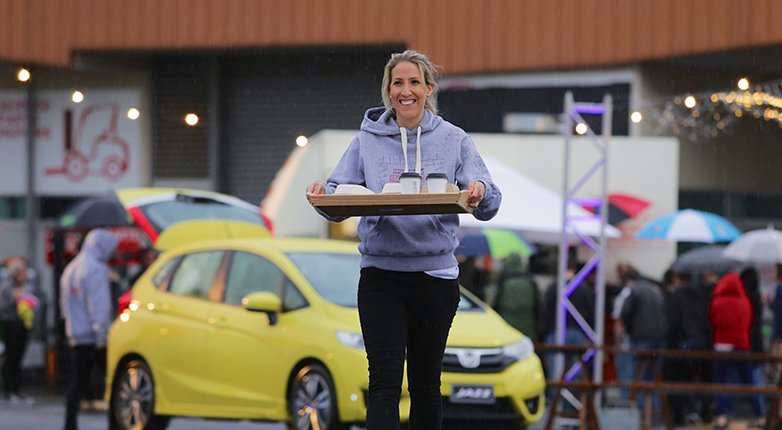 Challenge
The launch of the Honda Jazz into the Australian market created opportunity for a renewed positioning strategy for the brand. 
Targeting a younger demographic, it was necessary to capture the consumer's imagination, while demonstrating the vehicle's relevance to their practical transportation needs.  
The starting point was to bring the new Honda Jazz TVC to life providing a sensorial, once in a lifetime experience.
Instagram tags:

Ice-cream sandwiches, popcorn & drive in movies thanks to @honda_australia #JazzMMDI

Best date night ever. All thanks to @honda_australia #JazzMMDI
Solution
We created the Honda Jazz Magic Mobile Drive-In sensory experience, which popped up at secret locations across multiple states.  
Audience intrigue was captured through the mystery and exclusivity of the event – tickets available via ballot only.  
Every element was carefully planned to align with the lifestyle of the target market. Food trucks satisfied the hungry crowds, as popular underground DJ's delivered pre-movie beats.
To demonstrate the versatility of the car in a fun and relevant way, we completely refitted a Jazz to become a mobile candy bar, while others were transformed into luxurious VIP lounges for select lucky guests. 
Tickets to the event were awarded via ballot, and an integrated campaign attracted thousands of registrations – creating a huge new database of customers who shared the event. 
Outcome
Attendees enjoyed a truly unique and memorable experience of the Honda Jazz brand, where they could experience the Jazz up front – creating a car yard without the salespeople. 
Over 1000 attendees across three events 

 

The event 

featured

 on various online publications including Culture King and Broadsheet, generating significant live buzz across social media. 

 

Attendee content on instagram, facebook and twitter achieved an audience reach of over 5 million.