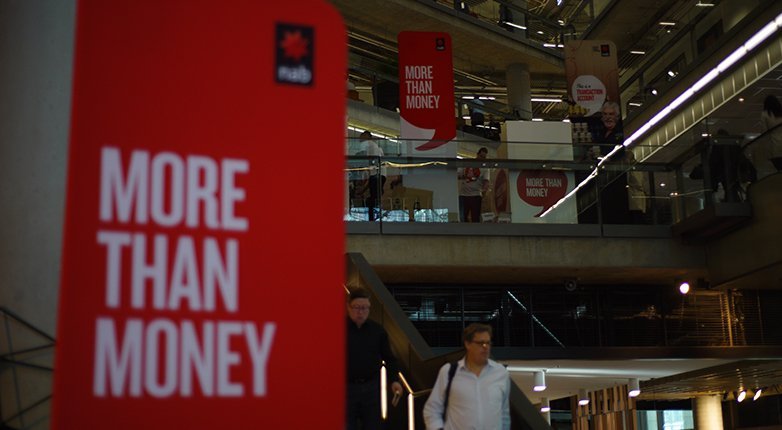 Challenge
NAB wanted all their employees to collectively understand and connect with the meaning behind its new brand promise – More than money – to ensure their employees could 'live' it every day.   
We had to create a strategy and execute an experiential campaign reaching every single NAB employee globally giving them a wow moment that evoked pride and connection with NAB. 
And we only had 5 weeks to do it…
"We couldn't have launched our internal brand campaign without Aesthetic by our side – they quickly became part of our agile project team. They're passionate, enthusiastic, ingenious, meticulous and steadfast. We can't thank them enough for what was achieved in record launch time. The result was a huge success."
Solution
We conceptualised creating a moment when all NAB employees would understand the human impact of what the bank contributes to their customers, community and colleagues. 
To facilitate this, we enlisted nine amazing NAB customers to be core to the campaign.  We helped these nine customers proudly share the story of their business and how NAB saw them as more than just a customer number.   
We designed and built physical market stall environments, which the nine customers attended and shared their stories and products with NAB employees.  For locations where we couldn't create a market stall, we created bespoke hampers with the products and stories. 
Our goal was for each NAB employee to receive a customer's product, engage with their story and understand the true meaning of More Than Money.
Outcome
Within 5 weeks we created a tangible way to tell NAB's brand promise story and ensure the message made an impact on NAB's internal audience.  
The logistics were epic: 
Over 50,000 products unpacked, custom labelled, re-packed and shipped to every single NAB location globally, 

 

8 locations with the physical market stall activation – 5 launching simultaneously

 

1,116 locations in Australia and 12 locations internationally received bespoke employee hampers.

 

9 

key

 NAB customers attending physical activations sharing their story with NAB 

employees and 82 NAB brand ambassadors spreading the word.

 
Many NAB employees shared their experience with us: 
"It was amazing to walk into so much energy. It got us talking about the campaign." 
"I found it inspiring to see how NAB can help people get to where they want to be." 
"It's a proud day for me to know that what we're doing matters."