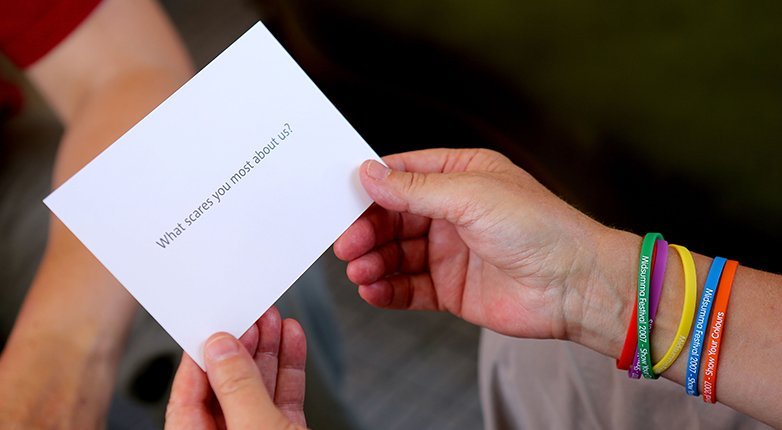 The challenge
NAB's 2015 Midsumma Carnival activation, Truth or Dare made an immediate impact with the crowds. NAB needed to continue the journey and conversation from the previous year, while continuing to celebrate its LGBTI employees and communicating to the public that NAB is an inclusive employer.
NATIONAL FINALIST & STATE WINNER for Experiential, Sensorial and Employee Marketing
"I loved working with Aesthetic on our activation for Midsumma Carnival 2016. The concept they came up with was nothing short of awesome and our activation on the day was smart, engaging and authentic."
The solution
We took valuable insights from the previous year – this unique and colourful audience was open to meaningful engagement with a brand, as long as the focus was on the activity, not the sale – and created an inclusive space that would live and breathe the sentiment of individuality from past attendees.
Inside NAB's Share House, friends, families, partners and strangers were faced with questions that would encourage open and honest communication.
Colourful, retro furniture shaped the inviting space with a casual atmosphere, while a backdrop of a friendly suburban backyard gave the homely touches required for the day.
Strategy
Brand Experiences and Events
Branded Environments
Communication Direction
Creative Studio
The outcome
Over 500 people pulled up a seat within the big red doors. There was laughter, openness, acceptance, connection and genuine conversations that were inspired by the nature of an inclusive community. NAB's message was clear. They will continue to support and champion inclusivity both at NAB and in the greater community. Because people matter.